Invisalign Clear Braces Questions and Answers
Bay Dental proudly offers orthodontic treatments like Invisalign clear braces to discreetly correct alignment and bite issues. Invisalign are a great alternative to metal braces. Are you interested in getting a new smile? If so,

contact us

today or

schedule an appointment

online. We are conveniently located at

3620 S Bristol St Suite #307, Santa Ana, CA 92704.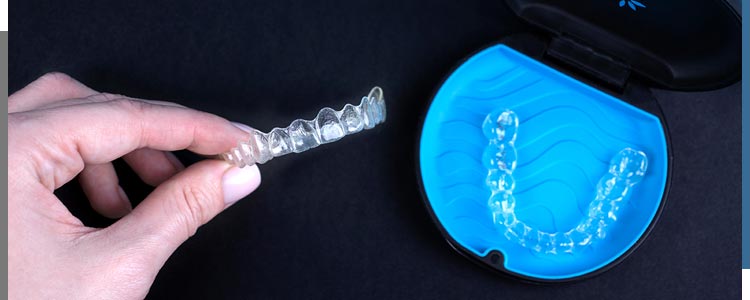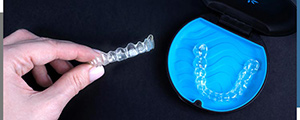 Table of Contents:
What are Invisalign clear braces?
How does Invisalign work?
How do I clean Invisalign?
What are Invisalign clear braces?

Our smile is one of our most valuable physical attributes, and when we have crooked teeth or a visible under-bite, for example, we turn to orthodontic treatment to correct those problems so that we can go about life with confidence. Invisalign clear aligner trays are a revolutionary and clear alternative to wearing metal brackets and wire braces, for a year or more. Made from medical grade clear plastic (polyurethane resin), Invisalign is practically invisible.

Invisalign aligners are equally as effective as traditional braces, minus of course the metal, rubber bands, discomfort and time required, in correcting a wide range of orthodontic issues, such as:

– Crooked teeth
– Crowded teeth
– Gap between teeth
– Under-bite
– Overbite
– Crossbite
– Open-bite
– Relapse after braces

Please keep in mind there are some conditions that may require more complex treatment methods, where Invisalign aligners may not be a suitable option.
How does Invisalign work?

Invisalign aligners are clear, thin and provide a snug fit over your teeth, and are virtually invisible. Aligners, just like traditional braces, are designed to move teeth. Invisalign aligners are custom crafted to fit over your teeth and designed to move your teeth into a proper and functional position in your mouth. During your treatment, a 3D image of your teeth is created using a digital scanner, and from that digital image a treatment plan is created for you. You will know the duration of the treatment plan designed for your specific requirements, and you will be able to see what your teeth will look like when the treatment plan is complete.

There's a list of reasons why Invisalign aligners have become the most popular choice for people who wish to correct teeth alignment problems including:

– Fast treatment: Aligners are changed every 2 weeks until desired results are achieved, and may be varied based on progress.
Proven results: Invisalign aligners have been clinically proven to provide faster results in controlling tooth movement. 
– Treats a variety of conditions: Invisalign is able to correct the most common of teeth straightening needs.
– Hardly visible: Unless you let people know, they will likely have no idea you are in the midst of orthodontic treatment, because your Invisalign aligners are virtually invisible.
– Very comfortable: The clear aligner trays are comfortable, smooth and removable for brushing and flossing, and do not irritate the gums.

Invisalign can be provided by a general dentist, even though it is considered an orthodontic treatment, because Invisalign is not intended to correct or treat severe or extensive orthodontic problems.
How do I clean Invisalign?

Cleaning your Invisalign clear aligner trays isn't just simple, it's necessary. Even though the aligner trays are supposed to be disposed of every 2 weeks, they still require cleaning daily.

Each night before bed, do the following to keep your aligners fresh and clean:

– Rinse every night with water before bed
– Brush with a gentle, clear liquid soap to remove any food particles
– Rinse well after brushing

Invisalign also has a couple of very good cleaning products for your aligners:

– Steraligner comes with a sterilizing tray, and is a solution that includes rubbing alcohol and sodium bicarbonate (natural antiseptic) which removes plaque and tartar from aligners. Aligners are soaked for 3 minutes then rinsed thoroughly.
– Cleaning Crystals is another aligner cleaning and disinfectant that contains sodium sulfate.

If you dislike how your teeth look, our team of highly trained orthodontists at Bay Dental are here to help! Contact Bay Dental directly and speak with one of our friendly and knowledgeable staff, or visit our website to arrange a consultation. We serve patients from Santa Ana CA, Lakewood CA, Garden Grove CA, Anaheim CA, Irvine CA, Orange CA, Costa Mesa CA, Westminster CA, and South Coast metro areas.