Digital Dental X-Rays Questions and Answers
Bay Dental is offering digital dental X-Ray services in Santa Ana, CA that will help keep your oral health in check. For more information,

call us

or

schedule an appointment

online.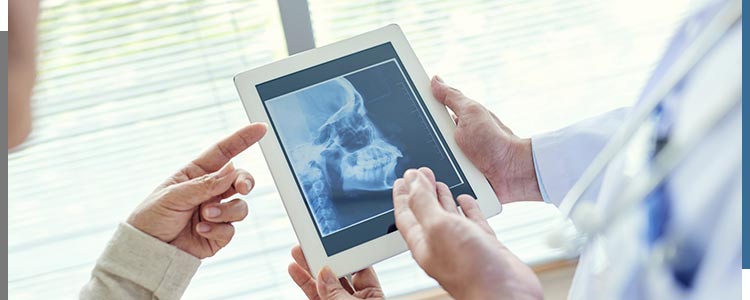 Table of Contents:
What are digital dental X-Rays?
How are digital dental X-Rays done?
How much do Digital Dental X-Rays cost?
How do Digital Dental X-Rays differ from traditional X-rays?
What are digital dental X-Rays?

Digital dental X-rays are yet another example of the remarkable technological advances that have benefited the field of dentistry. X-rays are taken of a patient's teeth and gums using digital imagery that is passed to a computer for fast, accurate and highly detailed digital images. The benefits of this technology make traditional X-rays virtually obsolete as everything is computer based, meaning a far more accurate digital dental history can be easily archived, stored, retrieved and updated by your dentist. The digital X-ray image will also enable your dentist to clearly see any teeth that have yet to emerge, like wisdom teeth.
How are digital dental X-Rays done?

A patient places a small sensor inside their mouth that sends digital information to the dentist's computer, instantly giving them a very clear digital X-ray image of every area of the mouth.

There are three methods in which digital dental X-Rays are acquired:

Direct method – uses an electronic sensor placed in the mouth to record images
Indirect method – uses an X-ray film scanner to view traditional dental X-ray images
Semi-direct method – uses both a sensor and scanner to convert the X-rays into a digital image 
How much do Digital Dental X-Rays cost?

The cost for digital dental X-Rays, like the traditional method, will depend on several factors, one of which being the type of X-ray taken (bitewing, periapical, panoramic or occlusal). Each area being X-rayed generally has a specific cost, as individual areas or a whole mouth scan can be performed. Rates can also vary by geographic location and individual dentist, and there is very little, if any, difference in cost between traditional and digital dental X-rays. Costs can average anywhere from $10 to $85, depending on the individual area being X-rayed. A typical full-mouth X-ray can range between $85 and $250. Most dental insurance plans cover the cost of X-rays, however, most also have co-pay fees (usually $5 to $50) and may limit how often the covered procedure can be performed. For more accurate rates, please talk to our team of dental professionals at Bay Dental.
How do Digital Dental X-Rays differ from traditional X-rays?

With the traditional method of using x-rays, radiation is passed through the bones, soft-tissue and teeth to create x-ray images that must be developed, just the same as taking film from a camera to be developed. Digital dental X-rays also save an incredible amount of time and resources because digital images are available to your dentist immediately on their computer screen. With new digital dental X-rays, 70% less radiation is required. This significantly lowers the level of radiation and means far less exposure for patients, as well as the dental professional conducting the X-rays. Traditional X-rays require the radiologist to take X-rays from multiple different angles to create an accurate composite of a patient's teeth. The images produced are unclear as they only offer up to 25 shades of grey. X-rays that use digital imagery technology provide one panoramic view of the entire structure of the patient's mouth and structure of the jaw and teeth. Everything from the patient's nasal and sinus passages to the jaw structure and teeth are seen in an almost crystal clear image, as the digital x-rays offer up to 256 shades of grey.

At Bay Dental we use the very latest technology and equipment to make your visit comfortable, informative and speedy. Our highly trained and friendly dental team are committed to your dental health, so call our office or visit our website for a consultation appointment. We serve patients from Santa Ana CA, Lakewood CA, Garden Grove CA, Anaheim CA, Irvine CA, Orange CA, Costa Mesa CA, Westminster CA, and South Coast metro areas.