Laser Periodontal Therapy Questions and Answers
At Bay Dental our services will always give you something to smile about. We offer Laser Periodontal Therapy to help treat gum disease. For more information,

call us

today or

schedule an appointment

online. We are located in Santa Ana, CA.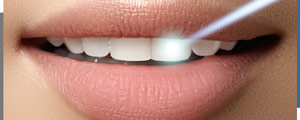 What is Laser Periodontal Therapy?
It is incredible how far dental therapy has come, with revolutionary advances in technology providing far less invasive and much less painful options for treating gum disease.Laser periodontal therapy is one of theseadvances. If you've gone in for a dental check-up and cleaning, and your dentist tells you that you have periodontal disease, it can be a jarring and frightening thing to hear because thoughts of extractions and dentures or implants come to mind. But thanks to technology, and catching the disease in its earlier stages, laser periodontal therapy could very well be the way to ease your fears and concerns. Laser therapy is used in numerous procedures inside the mouth, and its periodontal therapeutic uses include removal of overgrown tissue or to reshape or whiten teeth.
What are the benefits of Laser Periodontal Therapy?
Dentistry is one of numerous medical fields using laser technology to remove or alter infected or diseased tissue in small amounts with a high degree of precision and accuracy. Laser technology in the field of periodontal dentistry has advanced so dramatically as to provide a far less invasive and less painful treatment option.
Below are a few additional benefits to laser periodontal therapy:
Healing and recovery times are substantially shorter.
No need for general anesthetic, unlike other forms of dental surgery.
Accurate and precise targeting of diseased areas.
Less bleeding and swelling due to the procedure being far less invasive.
Patients who choose laser therapy technology for periodontal issues over surgical procedures also benefit from having fewer surgical tools placed in their mouth, as laser therapy is non-invasive. Laser treatments provide a far more comfortable and streamlined process for addressing moderate to severe periodontal problems.
How does Laser periodontal therapy work?
Working in conjunction with other therapies, your dentist uses a laser to remove inflamed gum tissue from around the root of the tooth, then removes plaque and tartar build-up from below and above the gum-line. Using a different tool, your dentist will then smooth out any rough areas which helps to prevent future infections by attracting less bacteria. Lower power lasers are used in periodontal therapy for patients with periodontal disease to disinfect pockets of bacteria that build up under the gums.
Why is Laser Periodontal Therapy performed?
Besides the fact that most people are terrified of having a drill in their mouth, laser periodontal therapy is non-invasive and is far less painful than periodontal surgery. Like any periodontal treatment or surgery, the purpose of periodontal laser therapy is to regain healthy gums and teeth that have become infected or diseased. Laser therapy was first introduced to the field of dentistry in the 1990's, and became FDA approved as a safe laser gum therapy in 2004. Laser periodontal therapy provides a wide range of benefits not achieved through other conventional means.
Today, some of the most common issues laser therapy is used for in periodontal dentistry are:
Tooth decay
Gum disease
Biopsies
Lesion removal
Teeth whitening
Laser treatments provide a far more comfortable and streamlined process for addressing moderate to severe periodontal problems. Laser periodontal therapy creates profound and transformative changes in the teeth's chemical composition, making teeth more resistant against tooth decay and making them cavity-resistant. If you are in need of a consultation about periodontal work, our team of highly trained and skilled periodontists at Bay Dental are available to answer your questions, and guide you toward an informed decision on how to best get your smile back. Call us or visit our website to book your appointment for a consultation. We serve patients from Santa Ana CA, Westminster CA, Irvine CA, Orange CA, Anaheim CA, Lakewood CA, Garden Grove CA, Costa Mesa CA, and South Coast metro areas.