Dental Bridges Specialist in Santa Ana, CA
If you have missing teeth or gaps in your smile,

Visit

Bay Dental today to learn how a dental bridge can help your smile, and keep it healthy! Call our team of dental professionals at Bay Dental today.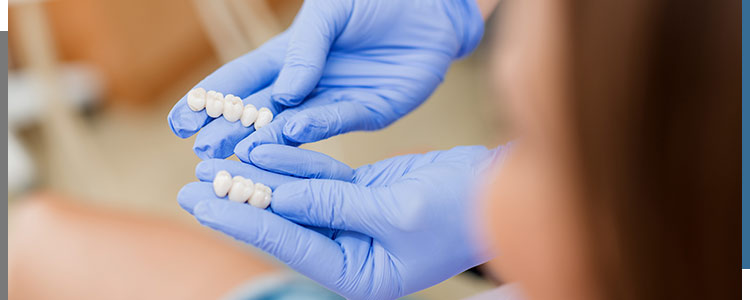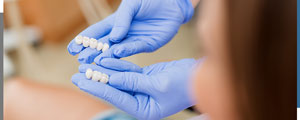 Table of Contents:
What are dental bridges?
What is the treatment process for bridges?
How do you care for dental bridges?
How much does a tooth bridge cost?
What are dental bridges?

A dental bridge is a closure that covers a gap between two teeth due to a missing tooth. This false tooth known as a pontic is held in place by the abutment teeth located on either side of the gap. The false tooth can be made up of different materials including gold, but most typically patients tend to get porcelain as it is most aesthetically pleasing and blends more naturally with the surrounding teeth.

 There are four different types of dental bridges available:

1. Traditional
A traditional bridge consists of the false tooth or false teeth being held together in a place by dental crowns which have been cemented into place on top of the abutment teeth. This type of dental bridge is the most popular method, as it can be used with natural teeth on either side of the gap.

2. Cantilever
A cantilever bridge is similar to the traditional method, the false tooth is held in place by the dental crown, which is cemented by one abutment tooth instead of two. This is the main difference.

3. Maryland
Maryland dental bridge is also similar to that of the traditional bridge, it employs two natural abutment teeth, one on either side of the missing tooth's gap, the difference is the Maryland bridge uses a framework instead of dental crowns that are bonded onto the backs of the abutment teeth, and are made out of metal or porcelain.

4. Implant-supported
Implant-supported bridges use dental implants instead of dental crowns or dental frameworks. One implant is surgically placed for every missing tooth, these dental implants then hold the bridge in position. If one implant for each missing tooth cannot be done, the bridge may have a false tooth suspended (fixed floating) between two implant-supported dental crowns.
What is the treatment process for bridges?

On average for a dental bridge, you will have two to three appointments until the dental bridge procedure is complete unless you are having the Maryland dental bridge completed.

Regardless of the type of dental bridge you are having completed, your dentist will take impressions of the teeth with either a dental scan or a mold. This is to review how your teeth look to map out the procedure.

With the traditional or cantilever bridge, you will need one appointment just to prepare the abutment teeth, in the next few appointments they will remove the temporary crowns, check out the permanent crowns to ensure they fit correctly and the bridge is supported well, and cement the bridge in place.

Maryland dental bridge does not need any preparation appointment, as the abutment teeth will have etching done to the back of them to help the wings bond to them. Once the fittest is complete, the dentist will place the bridge, bond the wings on the abutment teeth, and cure the resin to hold them in place.

An implant-supported dental bridge is a surgical procedure, as it requires dental implants first located in the jawbone and healing time before a dental bridge can be created.
How do you care for dental bridges?

Dental bridges are taken care of the same as you would your natural teeth. They need to be brushed, flossed, and use mouthwash each day. Your dentist will show you how to floss with a dental bridge(s) that is called a floss threader. The floss threader flosses under and around the artificial tooth (teeth) and in the middle of the dental bridge.

It is also highly recommended to visit your dentist once every 6 months to a year for a dental check-up and cleaning to ensure your teeth are still in a healthy state, and the dental bridges are being taken care of.
How much does a tooth bridge cost?

Many different factors go into the cost of a dental bridge, some of which include:

– Number of teeth that are missing and need the gap to be filled
– Materials used for the bridge are composite resin, metal alloy, zirconia
– How difficult the placement is
– Any additional dental treatments that need to be completed
– The geographic location of the clinic
– Type of dental bridge the patient chooses
– Traditional or cantilever dental bridge can cost on average $2,500 – $5,000 per false tooth and crown for each abutment tooth
– Maryland dental bridges can cost on average of $1,500 – $2,500 per false tooth with framework or wings, and attached to the abutment teeth
– An implant-supported dental bridge can cost on average $5,000 – $15,000 for a dental bridge with two dental implants which on average span three or four teeth.

At Bay Dental Family Dentistry and Orthodontics, our team can walk you through all of your cosmetic dental options, to make the best decision for you and your dental needs. We serve patients from Santa Ana CA, Lakewood CA, Garden Grove CA, Anaheim CA, Irvine CA, Orange CA, Westminster CA, Costa Mesa CA, and South Coast metro areas.