Dental Bridges Cost in Santa Ana, CA
If you have missing teeth, there are many solutions including a dental bridge. Keep reading to learn about dental bridges and how much they cost in

Santa Ana, CA.

Call

Bay Dental today or

schedule an appointment

online.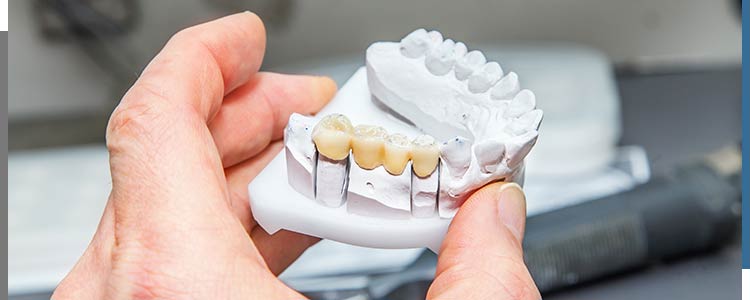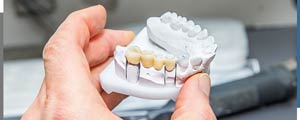 Table of Contents:
How much does a dental bridge typically cost?
Is a bridge cheaper than an implant?
How many teeth can be in a bridge?
What's the difference between a bridge, implant, and denture?
What are the factors of dental bridge costs?
Our experienced team at Bay Dental Family Dentistry and Orthodontics is dedicated to helping every patient achieve the smile of their dreams. We are lucky enough to have access to some of the most innovative and exciting technology in the field of dentistry. Bay Dental offers an extensive list of dental care services including cosmetic dentistry, orthodontics, general dentistry, and implant dentistry. Whether you're looking for general dental care or need an expert to fix broken teeth, you've come to the right place.
You can lose your teeth due to a sports injury, improper oral hygiene, smoking, or any accidents that cause blunt force trauma to the face. No matter what the case, Bay Dental has you covered! If you have any additional questions about this dental service, visit our website or give us a call.
How much does a dental bridge typically cost?

Dental bridges can cost anywhere from $500 to $15 000 depending on the type and size of them. It's important to note that some of these expenses can be covered through work benefits and your current insurance policy. Additional costs on top of the procedure include your first exam/assessment, a digital X-Ray, local anesthesia during the procedure, and aftercare supplies such as a prescribed pain reliever.

Is a bridge cheaper than an implant?

Almost all dental insurance plans cover dental bridges which can make the entire process cheaper than an implant. Check with your insurance provider and dentist to compare costs so that you can receive the best dental care that works within your current financial standing. Dental bridges are typically cheaper upfront than implants; however, they will need to be replaced every 5 to 15 years whereas an implant is permanent.
How many teeth can be in a bridge?

There can be one to four teeth in a dental bridge. Typically there will only need to be one or two teeth that need replacement. Every patient will come in with a unique situation and will need very personalized dental care.
What's the difference between a bridge, implant, and denture?

One of the biggest differences between a bridge, implant, and denture is their permanence and durability. Dental implants are completely permanent whereas dental bridges need to be replaced after 15 years, and dentures tend to break frequently. Because of this, dental implants require much less aftercare than the others. That being said, dental bridges are more affordable and don't require too many extra trips to the dentist.
What are the factors of dental bridge costs?

Many factors will determine the cost of a dental bridge. Consider comparing costs between different specialists to determine which is most suited for you. The following variables may affect pricing:
 
• The complexity of the procedure
• The number of teeth that need to be replaced, a bridge for one tooth will cost much less compared to a bridge for four teeth
• Materials used
• What type of bridge do you need (ie. traditional bridges cost about $2000 – $5000 while a Maryland bridge only costs $1500 – $2500)
 
Although dental care can be expensive, a dental bridge may be necessary to prevent future dental issues. Fortunately, they have other great benefits too! They can improve your smile, keep your teeth in place, help maintain your facial structure, and improve your bite. We understand that deciding what type of dental procedure you need can be a little bit overwhelming. This is why Bay Dental highly recommends booking an appointment with a specialist to get all the information you need to make an informed, smart decision. We serve patients from Santa Ana CA, Lakewood CA, Garden Grove CA, Anaheim CA, Irvine CA, Orange CA, Westminster CA, Costa Mesa CA, and South Coast metro areas.