About Bay Dental Family Dentistry and Orthodontics in Santa Ana, CA
Dr. Mahallati, Dr. Pearce, and dental professionals provide comprehensive dentistry services in Santa Ana, CA.

Call us

for more information, or

schedule an appointment

online.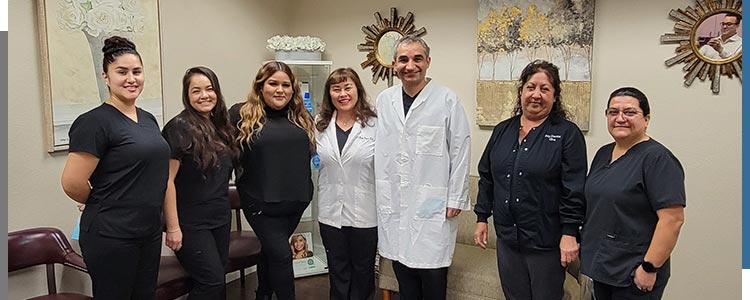 We are always welcoming new patients at Bay Dental, and we would love to have you as part of our dental family.
–Hidden paragraph as per request–
At Bay Dental we are truly a family practice. Dr. Shahin Mahallati works along with his wife and Dental Hygienist Brandi. All of our staff members have been with our practice for over 10 years, so you will be seeing the same friendly faces every time.
We pride ourselves in providing a state-of-the-art facility for the highest quality dental care available. It is one of our top priorities to protect the well-being of our valued patients. For this reason, our office meets and surpasses all OSHA (Occupational Safety and Health Administration) and CDC (Center for Disease Control) standards. We are confident that you will feel right at home in our office as we welcome all patients as if they were family.
We offer same day emergency and evening appointments to fit your busy schedule. Learn more about Dr. Mahallati, Dr. Pearce and the staff here at Bay Dental.
At Bay Dental, we are always at the forefront of the latest research in dentistry and use the most up-to-date methods and technology to help our patients achieve their desired smiles.